Whether you're renovating for the first time or have a lot of experience, you'll know how crucial it is to get the arrangement of your bathroom just right. The key to creating a functional and elegant environment is to ensure that everything fits comfortably and plays to the strengths of your individual bathroom size.
So, from downstairs toilet size guidance to master bathroom layout suggestions, we've gone over 5 of the most common bathroom size alternatives to help you make the proper decisions when having your new bathroom installed.
If you need skilled bathroom fitters in Eastbourne, Ringmer, or Lewes, call 07725 520980 or browse our bathroom fitting services.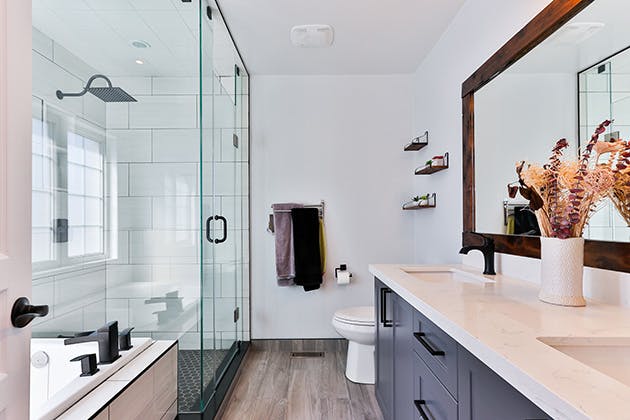 Downstairs Toilets
Toilets Downstairs are typically the smallest of all bathroom sizes. As a result, these are often the bathrooms that receive the least attention when being renovated. They are, nevertheless, significantly more crucial than you might assume.
They are a bathroom on the ground floor, but they are also the most likely to be used by guests. So, if you want to make a good impression, make yours as functional and attractive as possible. We propose looking for compact alternatives to regular products to maximise space here.

The minimal toilet room size in the United Kingdom is 70cm × 130cm. While this is conceivable (especially if you simply require a toilet and a basin), we recommend that your bathroom plan include at least one 80cm x 140cm downstairs toilet. That extra 10cm each direction may not seem like much, but it will go a long way toward making your toilet feel more accommodating, particularly for taller people.
Compact Ensuite Bathrooms
The size of an ensuite bathroom varies greatly depending on the bathroom layout. If you want to enjoy the luxury of an ensuite but are put off by the amount of room required, you'll be relieved to know that they can be designed to have a small footprint - with some alternatives almost as low profile as the minimal toilet sizes stated above. You must, however, choose its fixtures and fittings carefully.
To get the most out of your little ensuite, we recommend scrapping your plans for a bathtub. To generate the impression that the room is larger than it appears, free up as much floor space as feasible. Instead, go for a chic quadrant shower. The required minimum size for an ensuite bathroom is 1m x 2m. This should be enough to comfortably fit a toilet, sink, and shower enclosure if you choose items that aren't too bulky.
Small Bathrooms
If your bathroom layout involves designs for a small bathroom, there are still lots of solutions to accommodate its size constraints without sacrificing any of its functions.
We recommend choosing an appealing little bathroom suite to assist you in effortlessly creating a cohesive area. Attractive price points are available. In terms of bathroom size, if you have limited space, installing a regular size bath or shower bath may be problematic. Fortunately, there are numerous compact baths available, with dimensions as small as 1200mm x 700mm. Taller users should be aware that these may be out of the question. In this instance, a shower enclosure is preferable. It is never a smart idea to forego comfort or convenience.
Family Bathrooms
A decent family bathroom arrangement should attempt to maximise available space while avoiding overcrowding. Put simplicity of use at the forefront of all your options, and choose things that are appropriate in height for the entire family.
To ensure the safety of space, it is especially important in family restrooms to designate sections for towel and toiletry storage. Consider adding an eye-catching heated towel radiator and a wall-hung bathroom cabinet, in addition to your chosen bathroom suite, to keep your floors clear and any possibly harmful things out of reach of young children.
A typical UK family bathroom measures 2m x 2m. If you arrange your bathroom layout correctly, you should have enough space for your choice of fixtures and fittings, as well as a few extra pieces of furniture for that all-important storage.
Master Bathrooms
A master bathroom that has been carefully designed could be the crowning jewel of your home. A sanctuary in which to unwind and revitalise after a hard day, we recommend that you organise the space with the goal of increasing comfort at every turn.
The typical UK master bathroom is 2.5m x 3m, but if you have more space, go ahead and dedicate it to it. Just be careful not to make it too enormous, as bathrooms with wide-open areas may frequently feel chilly and clinical.
Contact us for bathroom design and installation
If you are interested in the bathroom design and installation services we provide in Eastbourne, Ringmer, Lewes, and the surrounding regions, please contact us now by phoning 07725 520980.
We can talk about what kind of bathroom you want and set up a time for us to come to your home, do a survey, and then provide you with a free, no-obligation quote. To request a free quote, please use our contact form or email us at info@dcaheatingplumbing.co.uk, and we will respond as soon as possible.