Have you decided to invest in a new bathroom and are considering the benefits of hiring a bathroom fitter? If this is the case, you are not alone. For many people, the bathroom is the most important room in the house, so it must be as attractive and modern as it is functional. While it is possible to install a bathroom on your own, it is not always the best option. The time, tools, and money needed to complete the work to a high standard far outweigh the cost of hiring a professional bathroom fitter.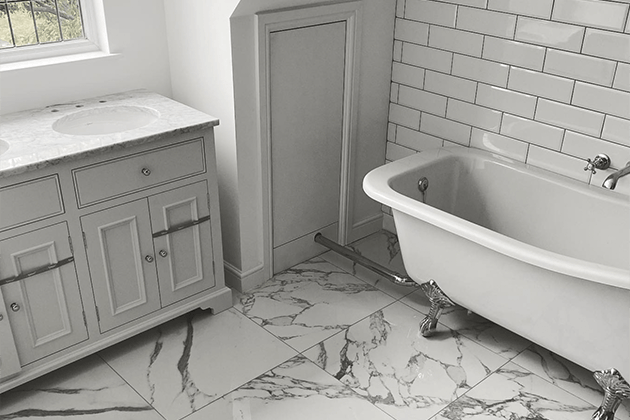 Why Should You Hire A Bathroom Fitter?
DCA Heating & Plumbing is proud to be one of the leading bathroom fitters in Eastbourne, Ringmer, and Lewes, with countless numbers of bathrooms installed over the years. Continue reading to learn why you should hire a bathroom fitter rather than doing it yourself.

It saves you time.
The bathroom renovation process takes a long time, especially if you are not an experienced fitter. Many people underestimate the magnitude of the task. In addition to designing and installing your new bathroom, the old one must be demolished. So why not save time and hire a professional fitter instead? Bathroom fitters have made a living by installing bathrooms. This means they'll be able to complete the job much faster than you would. If you only have one bathroom, finishing the installation quickly is critical. You don't want to go too long without a toilet or a shower. A bathroom installation that takes forever can have a significant impact on your and your family's daily lives.
Stick to your budget.

Bathroom renovations can be costly, but they don't have to be if you hire a skilled fitter. DC Heating & Plumbing can design your bathroom around a specific budget, ensuring that you don't spend more than you can afford. All you have to do is set a budget for the renovations and then contact us for an estimate. Our prices are extremely competitive, and our services provide excellent value for money.


It becomes more difficult to stick to a budget when you install a bathroom yourself. You may be unsure of what tools and materials you'll require, which can cause costs to quickly escalate. A bathroom that is more expensive than expected can cause work to stall or even go unfinished. This is especially inconvenient and impractical if you have a family. This is not a problem if you hire a reputable company like DC Heating & Plumbing to install your bathroom.

Specialists can help with design.


You may be skilled in construction and even plumbing, but do you have any knowledge of bathroom design? Bathroom design is not the easiest task. Whether you want to completely redo your bathroom or just update a few elements, you'll need skill and knowledge to get it right the first time. DC Heating & Plumbing can collaborate with you to design and install a bathroom that meets your specific needs, preferences, and budget.


We can help you design a modern or traditional bathroom, an en-suite, or a wet room. We even offer bespoke bathroom furniture to give your bathroom a truly one-of-a-kind look and feel. Our team has a wealth of experience, having completed hundreds of bathroom fittings in Eastbourne, Ringmer, and Lewes. DC Heating & Plumbing takes the design aspect of our work very seriously, which is why we've invested in cutting-edge CAD planning and design technology. Our bathroom design experts can assist you in creating the bathroom of your dreams.

Get professional assistance.


Bathroom fitters are highly trained professionals with years of experience. This ensures that they can offer expert advice every step of the way, answering all of your questions and coming up with innovative ideas. DC Heating & Plumbing has installed bathrooms in a variety of shapes and sizes, so we're confident we can assist you in designing the ideal bathroom for your home.
Identifying and resolving issues as soon as possible


Although you may believe (and hope!) that your bathroom installation will go smoothly, this may not be the case. Installing a new bathroom is a complicated job, and it's not uncommon to encounter issues along the way. Fortunately, a reputable bathroom fitter can usually detect and resolve these issues quickly and efficiently. Because of our extensive experience in the field, we've dealt with a wide range of issues when installing bathrooms. If you install your bathroom yourself, you may be less likely to know how to overcome any challenges, which can lead to mistakes that are time-consuming and costly to correct.

Contact Us
So, we hope we've answered all of your questions about why you should hire a bathroom fitter. If you need a bathroom fitting in Eastbourne, Lewes, or Ringmer, contact DCA Heating & Plumbing today. We've spent many years assisting local residents in achieving their dream bathrooms, and we're eager to do the same for you. Call us at 07725 520980 to speak with a member of our team, or use the contact form to send us a message.